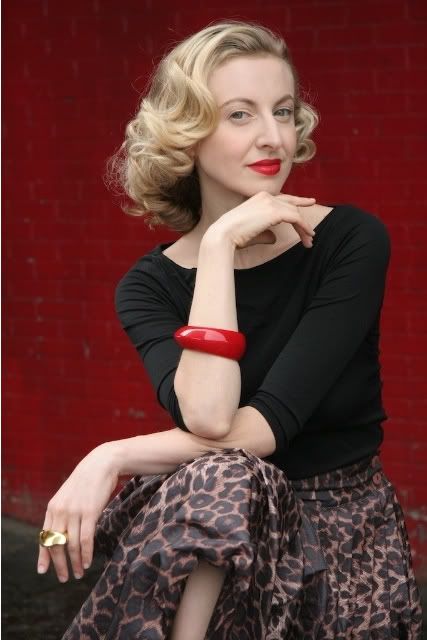 Every
industry has it's innovators who walk to the beat of their own proverbial drums. And we love them. Why not? Nothings any fun if it's all the same. That's why we pounced on the chance to interview Poppy King, founder of brand
Lipstick Queen
. She's a trendsetter and now an author, having recently published
Lessons of a Lipstick Queen
. More on that later with the Cult Beauty book review. For now, keep scrolling to find out what products Poppy can't live without, the worst beauty trend now and what not to do when starting a business...
WHY LIPSTICKS AND GLOSSES? Because I am obsessed with the glamour and femininity of painting the lips.
HOW DID YOU GET BACK INTO BUSINESS AFTER THE FIRST ONE? The same way I did all those years ago for the first brand. I recognized a gap in the market for specialty lip products, put together a business plan, found a manufacturer and secured finance. It sounds simple but each step leads to the next. The most important ingredient both times is the personal passion for doing something differently to what is out there.
WHAT ARE THE WORST/BEST BEAUTY TRENDS YOU SEE NOW? WORST: Sophisticated, older women wearing make up and clothes suitable for preteens! BEST: a return to red lipstick but with very minimal eye shadow so that it doesn't look overdone.
IF YOU COULD HAVE DONE SOMETHING ELSE, WHAT WOULD IT HAVE BEEN? Architecture. I wanted to be a female Howard Roark. Alas, I lacked any talent for it.
NEW YORK OR LONDON? Both! Why choose?
CAN YOU SHARE QUICKLY WHAT WE CAN LEARN FROM YOUR BOOK? That common sense and consistency are much more important than smarts. Every single one of us has the potential to take a dream and approach it with common sense and consistency despite what else we may lack. Doesn't sound glamorous but it is the best kept secret of success.
WHAT'S THE BEST BUSINESS ADVICE YOU'VE RECEIVED? The same as above. Not to over-complicate things whenever possible.
WHAT'S THE HARDEST LESSON YOU'VE LEARNED AS A SMALL BUSINESS OWNER? That there are so many variables you can't control. Even in big business but as a small business you are much more vulnerable.
WHAT'S THE FIRST THING YOU DO IN THE A.M., LAST THING YOU DO IN THE P.M.? Think about the meaning of life... oh, and brush my teeth!
IF YOU COULD MOVE ONE PLACE IN THE WORLD, WHERE WOULD IT BE? Spain, I think. But only if I somehow became a brilliant writer, which is unlikely.
WHAT ARE THE 3 PRODUCTS WITHOUT WHICH YOU WON'T LEAVE THE HOUSE? Lipstick, lipstick and lipstick. It immediately makes me feel ready for anything.
WHAT'S THE SINGLE BEST BEAUTY TIP YOU CAN GIVE WOMEN? Wear what YOU feel good in. Don't listen to others over yourself because if YOU feel good in something for the right reasons, not because you feel you have to, then you will look beautiful.
WHAT ARE YOUR FAVOURITE BEAUTY ADDRESSES IN LONDON? NEW YORK?
LONDON: Space NK stores, which are a treasure trove. NEW YORK: Barneys and Bendels for unique finds.
DO YOU HAVE A STYLE ICON? BEAUTY ICON? STYLE ICON: Slim Keith from California in the 1940s. BEAUTY ICON: Louise Brooks from the 1920s.
HUNGOVER? WHAT CAN YOU DO TO LOOK LESS LIKE DEATH? Drink a ton of water! It is the dehydration that makes you look and feel awful.
WHAT DO YOU LIKE MOST ABOUT THE BEAUTY INDUSTRY? Not being a typical part of it. I am not crazy about the traditional approach which is filled with dictatorship. I like to be the antidote.
WHAT INNOVATIONS/NEW PRODUCTS DO YOU WANT TO SEE ON THE MARKET? As above. Less homogenization of products and looks... more diversity. All the products I have coming out. I only ever bring out products that I think are missing.
HOW DID YOU CREATE A MATTE LIPGLOSS? [editor's note: it's genius] It was a collaboration with my chemist. I wondered if we could do something that felt as easy and smooth as gloss but lay down on the lips and cheeks matte. I posed the question. She provided the answer.
WHAT ARE YOUR PLANS FOR LIPSTICK QUEEN IN 2009? More unique product and totally free spirited attitude!!!