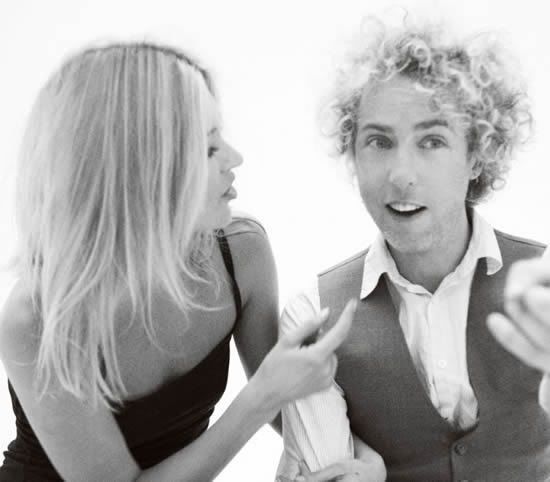 BFF with supermodel Kate Moss (and apparently the man who guides her on most of what she wears. Who knew?), James Brown is the hair stylist to some of London's coolest clientele and styled Kate on her 1992 Vogue cover. He's a session stylist, and now brand creator, who is responsible for the lust-worthy looks of Agent Provocateur and beautiful manes of Sarah Jessica Parker, Gwyneth Paltrow, Kirsten Dunst, Johnny Depp, Amber Valetta, Julianne Moore and Gisele Bundchen. Without further ado, see what our succinct stylist has to say in our interview with him:

HOW DID YOU START DOING HAIR?
My sister used to come home from the hairdressers and immediately wash and restyle her hair the way she liked it and I eventually persuaded her to let me have a go and was eventually doing hair for the entire street. I landed my first job in a salon in Croydon at the age of 15, although they thought I was 18!
WHAT INSPIRES YOU? Friends and family.
WHY DID YOU CREATE YOUR OWN RANGE?
Working on shoots, I was always mixing products to get what I needed, so I decided to create my own range that was simple and effective.
HOW DID YOU DO IT? Working on shoots, I was always mixing products to get what I needed, so I decided to create my own range that was simple and effective.
WHAT'S THE SINGLE BEST TIP FOR HAIR CARE YOU'VE HEARD? Rinse your hair in cold water to get it smoother and shinier.
WHAT'S YOUR SINGLE BEST HAIR CARE TIP? Keep it simple and work with your hair, not against it.
WHAT ARE THE BIGGEST HAIR TRENDS FOR FALL 2008 AND SPRING 2009? Strong colour.
WHAT DO YOU WISH YOU COULD SEE MORE OF IN THE HAIR INDUSTRY? Compassion and patience!
IS LONDON THE HAIR CAPITAL OF THE WORLD? Yes!
WHERE IS YOUR FAVOURITE PLACE TO GET AWAY FROM IT ALL? My house in Ireland.
WORST HAIR TREND YOU'VE SEEN? Extensions.
BEST HAIR TREND YOU'VE SEEN? Plaits – simple and sexy!

FAVOURITE HAIR COLOUR?
Dark brown.
DO YOU HAVE ANY CELEB CLIENTS WITH WHOM YOU LOVE WORKING? Kate Moss and Sarah Jessica Parker.
WHAT'S THE WORST HAIR STYLE/TREND YOU'VE EVER WORN? Extensions – when I was about 17!
WHAT'S YOUR FAVOURITE LONDON WATERING HOLE? The Clifton, St Johns Wood.
FAVOURITE MOVIE STAR HAIR? 1950s glamour.
BEST INNOVATION IN THE INDUSTRY? Straightening irons!
WHAT NEW PRODUCTS WILL WE SOON SEE IN YOUR RANGE? I have a range of 5 new exciting styling products in the James Brown Range which just went into Boots store at the start of October. I'm most excited about the Shine & Fragrance Mist although everyone seems to be going mad for the larger size Hair Reviving Dry Shampoo. Daisy Lowe says she wouldn't have survived Glastonbury without it.
WHOSE HAIR WOULD YOU LOVE TO DO? Cate Blanchett
WHAT WOULD YOU HAVE BEEN IF YOU COULD HAVE BEEN SOMETHING ELSE? A jockey.