A
moment captured in black and white. Four men, four pairs of eyes fixated on a fifth figure. Her heavy fringe is brushed to one side, her tiny frame swims in a Breton blue and white top and men's slacks; she is the only one staring at the lens, the only one posing. Hands on her narrow hips in an exaggerated manner, she puffs out her chest, trying to maintain a faux serious expression under the strain of a half smile. Is she making a point about being a woman in a man's world? Possibly.
The woman in the photograph is Niki de Saint Phalle. It was 1962 and the French-American had just become the art world's new darling thanks to her shooting paintings, where she set up public galleries and shot at canvases with a rifle. She and her lover Jean Tinguely would soon be known as the "Bonnie and Clyde of Art". This girl kicked ass, and she did it in style.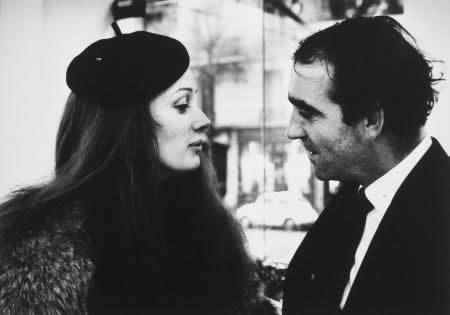 De
Saint Phalle was revered for her work and famous for her movie star looks and a chameleon-like approach to her appearance. Whilst feminists were clamouring for women to revolt against conservative conventions of physical beauty, de Saint Phalle continued to parade her custom-made
Dior
and
Chanel dresses
, kohl her eyes and backcomb the roots of her hair. In these moments she was the very essence of sixties
Parisian cool
– pale skin, beige lips and black feline eyes atop the rolled neck of a tight ribbed sweater.
Even more impressive was her effortless natural beauty. At work in her studio, she would be hunched over a canvas, physically committed to it, wearing a man's shirt or a chunky knit. Her hair, when short, would stick up in clumps and, when long, would hang in messy waves around her paint-splattered face. This was the Midwest American in de Saint Phalle – unaffected, unfussy prettiness... slightly tomboyish. It didn't matter if she wore a dress or overalls, if her face was made-up or left bare, she never failed to be sexy.
Now, when I walk past that photograph in the Musée d'Art Moderne et Contemporain in Nice, I can't help but imagine what it would have been like to have been Niki de Saint Phalle. Selma Hayek once pointed out that 'the world's most unforgettable beauties are often the women who fall outside of the narrow definition of conforming to type. Their beauty is a glorious reflection of being comfortable in their own skin.' No woman was a more magnificent incarnation of this definition of beauty than de Saint Phalle. Today, on what would have been her 78th birthday, (she died in 2002 from a lung condition caused by inhaling the toxic chemicals she worked with) it might be worth remembering Niki de Saint Phalle not only as an artist but as a style icon as well... edgier than Hepburn, brighter than Bardot, more innovative than Deneuve.
By Hannah Marshall