If you can't tell (or if you're not a regular reader of this blog, which, fair enough, might mean you have better things to be doing with your life), I am a very big fan of Poppy King and her quest for the perfect matte lipstick. It might seem unimportant compared to the real issues out there -- world hunger, global financial meltdown, the end of the next cycle in the Mayan calendar and the apocalypse many think accompanies it -- but the details, I like to think, make things a bit less dire. Trivial? Maybe. Fun? Loads. After all, lipstick sales and chocolate sales always go up in times of financial turmoil. I can't be the only one who thinks like this, then, can I? Anyway, I choose to focus on this particular detail more than others because I do love a matte lipstick and spent years trying to perfect a crackpot, homemade version by means of tissue and face powder, alternately blotting and powdering my lippy until it cracked under the strain from so much powder and so little moisture.
When I first came across MAC's Ruby Woo (supremely matte, red lipstick... like the stage curtains in a golden era Hollywood cinema) ages ago I thought I had found the ONLY matte red lipstick out there. Swoon. I was in love and wore it everywhere, even 8am meetings. Then Lipstick Queen relaunched and sent over a Sinner, a Saint and an Oxymoron. Witty strippers, they were not, but rather a new range of lippies from the self-confessed Aussie lipstick queen, risen from her lipstick ashes like a veritable phoenix! Alas, a lady with the same obession.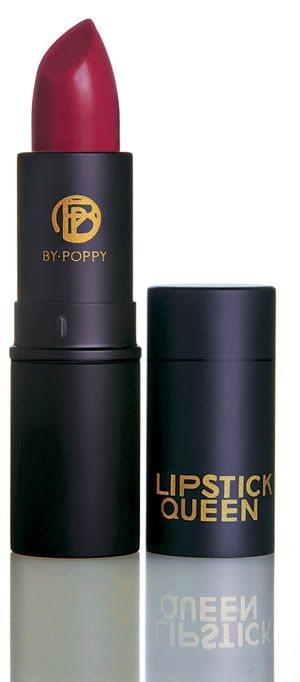 I ripped open the packaging on my
Red Sinner lipstick
as if Christmas had come early, eager to shatter the Ruby Woo status quo. Half the reason I was so eager to have it be the most amazing matte lipstick ever is because I loved Poppy's story. My hopes were not dashed when I slicked on the
Red Sinner
in the office mirror.
Sinners are 90% pigment
and muy matte. Once on my lips, I stared. And liked. The undertone was a bit less orange and a bit more blue, very different from so many reds I've encountered but only slightly so. After a day of wear it still stayed put right on my lips, not my chin or teeth or other people. I only had to top up twice. It was nice; it wasn't too dry. But... there was the faaaaintest sheen. I tried it on in a few different lights and during these later trials I did
Ruby Woo
on the bottom lip and Red Sinner on the top and there is decidedly a slight sheen to
Lipstick Queen
and no sheen to Ruby Woo. However, Ruby Woo is much more drying. My verdict is that Lipstick Queen is superior on all counts except for the fact that it is not 100% matte but that's because it's better on all other fronts. It was a hard call. And, sometimes, I wear both at the same time because I can't decide.
Red Saint is a sheer lipstick that has a sheen to it, of course, is rather moisturising and for those who want colour but don't want to draw the constant stares that you have to be ready to deal with if you're going to wear 'LOOK AT ME' matte red lipstick in public. Definitely a good choice for those who want to dip a toe into the lippy pool but aren't ready to dive in head first.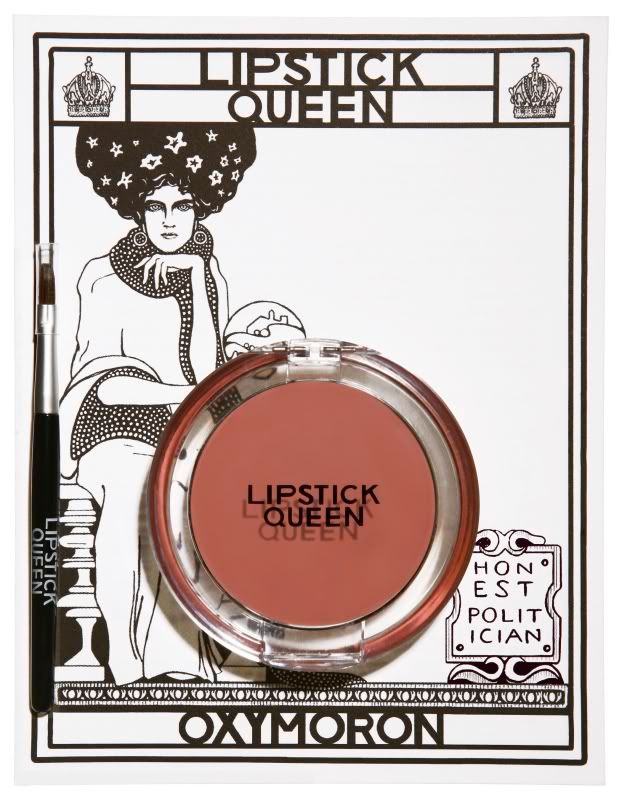 Oxymoron
is a novel approach to lipgloss. Matte lipgloss. Is it possible? Sort of. I feel like I'm putting on matte(ish) lipstick with my fingers with this product. I really like it because it makes your lips look rather large (as my two business partners will agree) but it is drying, like a matte lipstick and has a very different texture from a gloss. The
Shine
gloss, however, in Red is the epitomy of what a lipgloss should be. Gooey, slick and shiny as a freshly waxed, cherry red Corvette. Camp, tacky... it's the 1970s in a jar. It reminds me of roller rinks and terrycloth romper suits. Perfect for pillow lips on completely still days. Probably best not to wear it whilst driving that Corvette for fear you'll be blinded by hair flung across your face and impossibly stuck to your lips.
Overall it's an amazing range that I'm happy to have come back to life. If you looked in my bag at any given time, there would be a Lipstick Queen product in there to attest to the consistently good quality of King's range. And, man, does that Red Sinner make you feel like a minx... You can buy Lipstick Queen in some Space NK shops in the UK, on www.lipstickqueen.com and Lipstick Queen is stocked at Barneys in the US.