This
is
Content Beauty/Wellbeing's
first boutique. It's on one of our favourite streets in London. Bulstrode Street is a stone's throw from
VV Rouleaux
,
KJ's Laundry
,
French Sole
,
The Button Queen
,
Relaise du Venise
and (one of London's best-kept secrets)
Paul Rothe & Son
, where you can get homeade soups and sandwiches daily made by the family that run this shop.
Content Beauty/Wellbeing
is a fantastic addition to what is already the coolest neighbourhood in central London.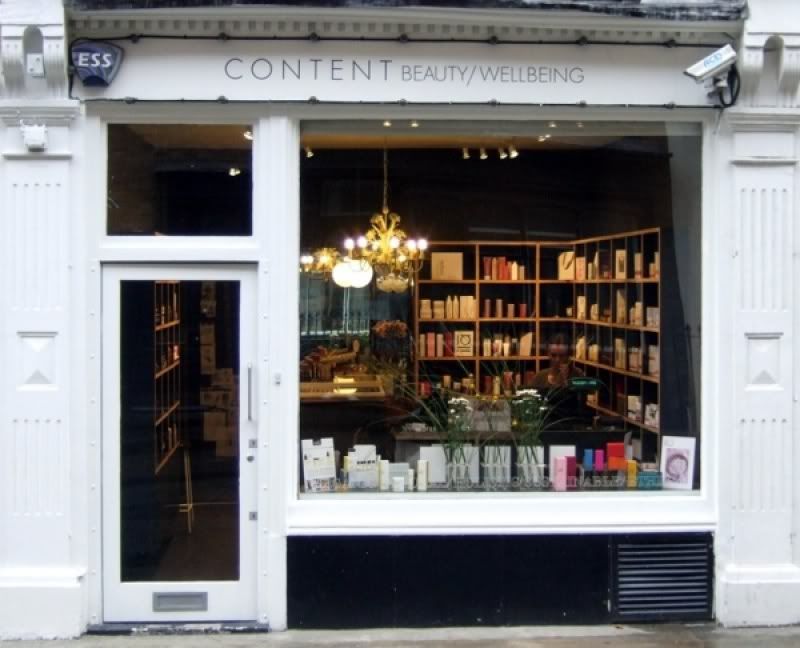 The concept was thought up by Imelda Burke several years ago, because she wanted safe, honest and natural products. She recognised the glaring gap for any sort of regulatory body in the cosmetics industry (which is preposterous) and got to work doing something about it with the 'Campaign for Safe Cosmetics' in America, 'The Womens Environmental Network' and the 'Compact for the Global Production of Safe Health and Beauty Products'.
The store itself is very pretty (proving that natural and good-for-you don't have to be boring or beige or any number of sterotypes associated with such things). The thing is, it's a great, edgy, cool boutique that stocks everything from Cult Beauty brand Nvey Eco to Tsi-La and John Masters Organics. They've got everything from mainstream to niche and have picked up our latest obession, which is Dr. Spiezia's new range, InLight Cosm-ethics. I can't say enough good about this shop and what they're trying to do.

And
they're doing an in-store event with the founder of
Nvey ECO on 5 June 2008
. We'll be there. Next week we'll have our own images of the shop on the site and will see if we can get a little interview with Imelda herself in the weeks to come.