We've heard news that Fred Segal in the States has picked up this new Swiss skincare range, Edelbio. It looks pretty nifty after reading the site, although a bit like Weleda. However, there are products specifically formulated for girls so they should be even more gentle and tailored to the pH and other needs of little girls' skin.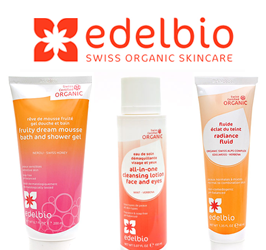 Edelbio
founder Karine repeatedly talks about the importance of the beauty practices mothers pass onto the next generation and that being one of the driving forces behind the creation of the range. Sharing in the 'bonding experience of beauty' is how she puts it and as much as we'd like to think that in a post-feminist world we bond on other, more intellectual levels, there's not a female among us who doesn't have a tip from their nan or mum about how to apply lipstick, make loofahs out of discarded orange bags from the grocer, use rollers... anyway, check out the range
here
. More to come, as always, when we try out a few of the goods later on in the summer.