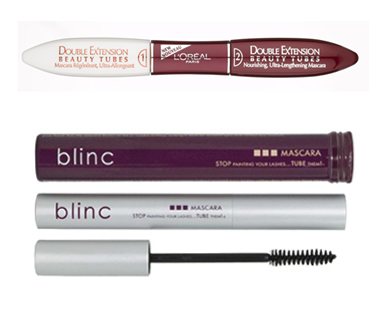 2

weeks ago a tube of

L'Oreal Double Extension Beauty Tubes

finally made its way to my desk. We had been eager to trial the stuff since we saw a commerical on it with a very similar strapline to the cult mascara range

Blinc

-

Tube Your Lashes

. Hm. Giving L'Oreal the benefit of the doubt we had a go. Afterall, it would be ideal if there were a drugstore version of the fabulous Blinc mascara so those who can't afford

Blinc mascara

could still benefit from the tubing technology.
We

had one go with the mascara. Then a second. Then a third. But by the fourth time we unfortunately had to give up. It's a fine mascara for how much it costs but it doesn't amplify lashes and the base coat smells supiciously like paint thinner. However, those weren't my biggest worries. I became wrought with anxiety when it came time to de-tube my lashes. I couldn't get the stuff off, no matter how much warm water the tubes had been saturated in. My lashes! The pride and joy of my face were being compromised! Eventually I had to succumb and use my finger nails, pressing them together at the base of the lashes and stripping off the tubes. I pulled out more than a couple lashes and I didn't see the spidery tubes of elastic paint that I do when I take off the

Blinc

or

BECCA mascaras

.
This mascara seems to work as a water-proof mascara in that it doesn't really seem to 'tube' per say, the technology not stand up to serious scrutiny or testing. The general consensus seems to be the same on all the beauty blogs and beauty product review sites so, L'Oreal, don't be hating on us! Women have tried it and the verdict is in.
If you're looking for a mascara that tubes your lashes rather than coating them in paint, I would still go with Blinc, the original tubing mascara and still, in my book, the best. The price point might be higher, but I've always been able to pull off the tubes without hassle (once soaked in warm water) and the coloured ones (purple in particular) have great pigment.