Just recently I strayed from my perch in North London and had a good old wander around the King's Road. Some things have changed and we've heard that Liz Earle is going to be putting in some treatment rooms soon (tbc but a wee birdy's said as much). So that was all rather exciting. I ambled on to my destination down the King's Road, World's End-way: The Spa at Bluebird (but not, of course, before wandering into the delicatessen where, were it not for my freelancers (lack of) salary I would've bought the lot). I had to see the spa for myself, after such a big up in one of the weekend supplements the previous month. Manager Stephanie sounded like she'd put together a crack collection of cult cosmetics, fragrances, skincare and she was crafty enough to secure Ole Henriksen's spa menu - the only place to do so in Britain.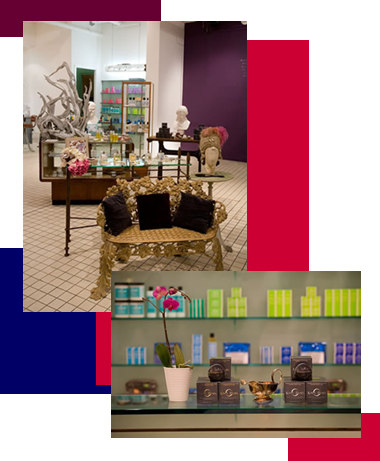 One
of the most popular treatments is also one of the messiest. But it's strangely relaxing and meditative. The african red tea body cocktail is an hour and a quarter of dimly lit and deliciously messy calm. I know. It sounds impossible but it's true. How often as adults are we allowed to just get covered in muck and wiggle about? See? The treatment happens in one of the few treatment rooms. The music isn't all new-agey, rather it's cool enough to make you feel like, for that minute, you're living your life with a soundtrack playing in the background. The treatment consists of a few stages. First you get a good scrubbing with some brown sugar scrub which is just rough enough and tickles on the soles of your feet. Then you lay on the table under a veritable waterfall of warm water for the next 10 or so minutes. The towels get squishy and soaked and it's just such a cool feeling. The only drawback is that the way gets a bit in your ears. Then the therapist comes back.
I jump off the table as she strips back the bog that's now the treatment table. There's another layer of dry towels underneath, which I now get on and she slaps the strangest mixture of yogurt and actual Rooibos tea leaves all over me. Smells like the office! I'm then swathed in a foil wrap like fish about to be broiled and I lay back on the table (with further swaddling in a layer of towels) and relax to the music for 15 minutes. So calm I feel out of body although don't get anything in your eyes as it's hard to wrangle your hands free. I then get a good rinse and head to the changing room to play with Ole's other products. I felt very shiny and clean afterwards, which is the perfect end result for a scrub and wrap. All in all, a great hidden gem on the King's Road. If you have the dosh, you can even prolong the relaxation by staying at the cafe for a quick cuppa too.