: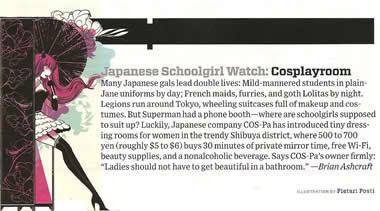 Wired
Magazine had the best blurb about a
trend hitting Japan
right now in their Japanese Schoolgirl Watch (slightly unsettling column headline)... clad in school uniform by day but Manga-inspired vixen by night... where they hell do the
girls get into their elaborate clothes and makeup
? Before, apparently in the loos. But a new company called
Cos-Pa
has launched something similar to the WC1 Powder Room in Tokyo's Shibuya district so they can have
30 minutes
to change and do their maquillage, complete with
wifi
and a
non-alcoholic bevvy to boot for less than a fiver
. Not bad.
Source: Wired Magazine, September 2008