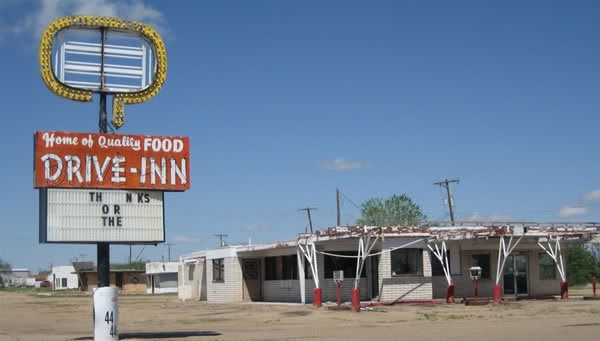 What
do you think of a
drive-thru chemist
? Being from the land of the free and the home of the... drive-thru meal, it does sort of rub me the wrong way (although the fact that it's housed on the site of former McDonald's does make me chuckle). It just seems like a bit of a harbinger for bad habits to come... pretty soon the UK will have drive-thru Starbucks (if they don't now), a fixed feature in even the most random of American neighourhoods already, alongside the drive-thru Boots, drive-thru Dry Cleaners and drive-thru Odd Bins. In the States, 22% of all meals happen in a car.
On the other-hand, for those who are a bit elderly and find walking difficult, this might be a positive thing.
But there's no debating that the state of America's waistline might possibly correlate to a dependence on cars and constant convenience. And drive-thrus play a huge part in that. If you're going to buy a bag of Monster Munch at Boots or a 30oz half-caf, whipped, skim, sugar-free, caramel Latte, at least walk in to get it.

Source