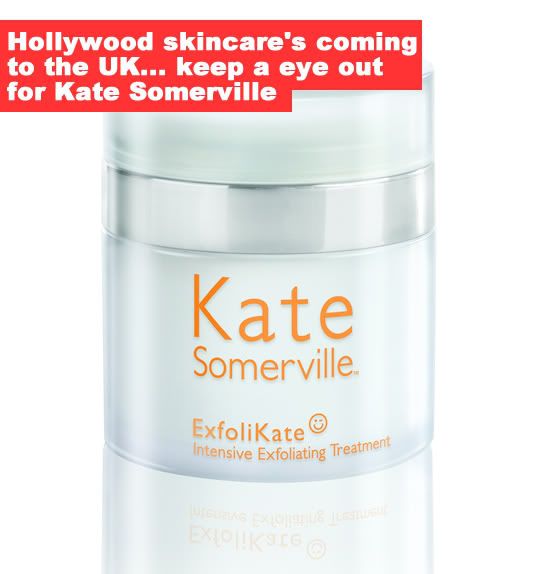 It's
been confirmed... one of the
biggest skincare brands
in the US is signed up to be
on the shelves of SpaceNK by early 2009
, with a press push starting in October of this year. Our dear friend, the
Britishbeautyblogger
, tipped us off and the press office in LA confirmed the gossip.
If you're not familiar with Kate Somerville, she's the lady behind Exfolikate (a staple in many American vanities) and a regular feature in the lives of many Hollywood a-listers'. She's perennially in the beauty bible, Allure, as an expert and in Best Of lists. Somerville started the Kate Somerville Skin Health Experts in LA (where said stars get their facials) and, as I mentioned in this older Cult Beauty post about Kate Somerville and Tracie Martyn, she champions something called the Skin Health Pyramid™, which her site says 'defines and prioritizes the five fundamental elements for attaining and maintaining beautiful skin'.
All I can say is that I was intrigued, a while back, when I saw a jar of Kate Somerville Goat Milk Cream on the window sill in a mate's bathroom in Manhattan a while back and, since then, her name and products have been cropping up everywhere... soon they'll be cropping up in the UK too.