You
have got to love this tool. It's like paper dolls for the internet age... Granted, the virtual makeover can only be done with one brand's cosmetics (Clinique in this case... clearly a bit of advertising). But... job well done, Clinique. If you're going to advertise to us, at least do it like this instead of with irritating pop-ups or sneakier advertorial.
It's a pretty fun to make yourself look completely different... how would you look if you were in the witness protection program!? The hairstyles are a bit suspect and that bit of the program could probably do with a bit more development, but I also have a feeling that if the picture I uploaded was a bit clearer/better even the hairstyles would look alright. As it stands, all I had was a pic taken with my phone in which I had not a single stitch of makeup on my face since it was pre-makeover. Still, my transformation into Uma Thurman a la Pulp Fiction still seemed to work.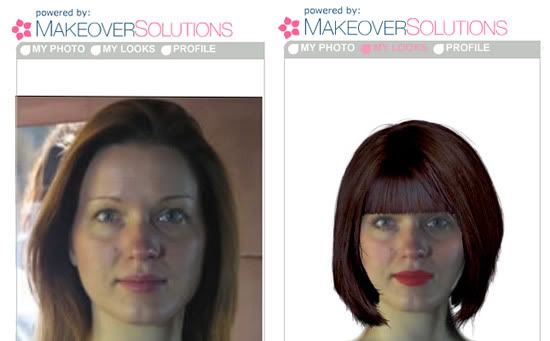 If
you want a virtual Clinique makeover, just visit
Marie Claire Virtual Makeover
, upload an image and see what you look like in hair and makeup you've never tried before.