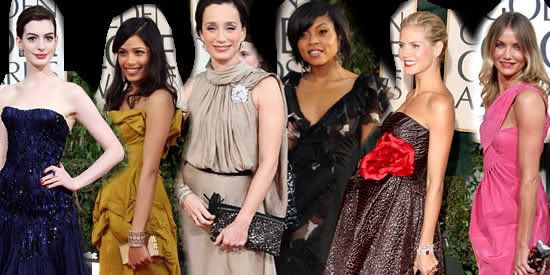 First
, there are plenty of beauty blogs that deal in celeb beauty. Generally, this is not one of them. But I was browsing Golden Globe red carpet images and had a thought: the looks/outfits at American awards shows are quiet samey, samey, no? The looks are pretty safe, and those that aren't get torn to shreds, usually, for the mere act of looking less-than identakit.
Details that caught my eye this year: Beyonce almost had an interesting look this year. She wore a textured dress with great detail and a fabulous necklace (that was, unfortunately, the same colour as her dress. Why always so matchy matchy on the red carpet, people?). Then there was Selma's cleavage (jesus, lady), Eva's turquoise collar, Cameron's bubble gum pick lips and gown, Rene and Drew with retro bouffants, JLo looking like an Oscar incarnate, Angelina looking... the same, Maggie in blue leopard Lanvin... lots of one-shoulder dresses, lots of pleats, bias cuts and fish tails... Kate Winslet and Anne Hathaway will probably battle it out for top spot in the red carpet rankings this year. Of course, even the ones who are panned for their red carpet looks are still groomed to within an inch of their lives and, thus, still looking pretty hot.
So, why do I like Heidi and Anne? Heidi's shoes aside, the flower detail is beautiful (as are the red lips) and she just looks happy and is consistently quirky. Why not? She can pull it off.
Anne Hathaway had completely faultless, brilliant body make up. She looked as much like a porcelain doll as I've seen a human look. Beautiful skin, girl... the second best beauty accessory (after a genuine smile). Her dress is a deep, interesting blue with texture on the bodice as well.
You might all feel differently (no doubt Joan Rivers will, at least about Heidi) but there are my two cents.