Leave
it to the French to come up with a stylish and discreet line of cosmetiques du plaisir called YESforLOV. And thank god for that, especially during this weekend dedicated to all things lust- and love-related. Plenty of other blogs and magazines and sites and whatever have already supplied you with innumerable crack tips for looking great this weekend... in fact, the only tip I could add would be to make sure you have a

mini-make up/grooming kit stashed away in your bag

in the event you stay over. No sense in beautifying for an evening of low lighting and flickering candle light if you look like something the cat dragged in the following morning in the harsh daylight.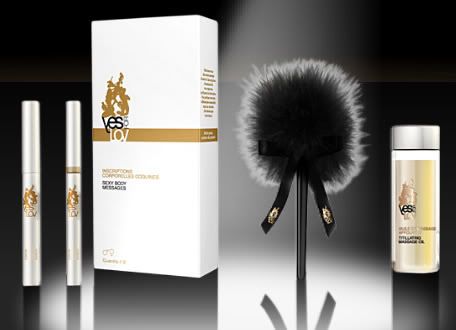 Back

to YESforLOV cosmetiques du plaisir (or pleasure cosmetics for the uninitiated in the language of love).
Sold in France, Italy, Singapore, Guyane, Luxembourg and Belgium. In France, they're all over Sephora along with smaller boutiques, chemists and BHV. The brand would work beautifully in
Coco de Mer
and
Kiki de Montparnasse
in the UK and the States.
The range includes unscented wipes, Libido vitamins, dusting powder, excitment gel, naughty body messages, caress cream for the bottom, sheet fragrance, icy-hot kisses (two lippies, one cool and the other fiery... we can only imagine what you're meant to do with these), lubricant in monodoses and regular dispenser, honey cleanser in monodoes and regular dispenser and cleverly packaged condoms. Plus, they sell packs if you're not sure what to buy: Saint Valentin, Naughty Games, Mrs Love, Mr Love, Mission Irresistible... pretty cool.
And the packaging on everything is discreet. Black, white and gold. A bit Bond, a bit French... infinitely better than some of the more medical-looking or transactional-looking brands out there.
So we recommend that along with that emergency grooming kit for the morning after, you pack a few essentials for the bedroom as the entire aim of all that primping and preening this weekend is to end up end up with the one you love... or lust after.