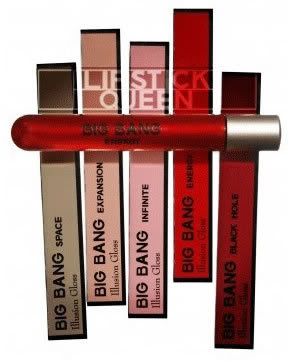 Want
to know about another launch happening in February (and not a moment too soon for those of you who go whole hog for Valentine's Day)? We've been eagerly anticipating this one for a while... Poppy King's has just released a new
Lipstick Queen
plumping lippy this month called
Big Bang
. The trick behind this lippy is all in the art of illusion rather than the art of irritating (your lips with
capsaicin
). Light reflection and refraction seem to be the methods employed in this cosmic-themed range to create a fuller-looking lip. Read the description of Big Bang (complete with the name of each new gloss):
"This futuristic formula uses small particles of shimmer to blur out lines and give your lips the ILLUSION of fuller voluptuous lips. My Big Bang "Theory" when it comes to the lips is:
Women spend a lot of Time* looking for products that maximize the Expansion of the lips. It seems like everyday there is a new lip plumping Creation, most of which are uncomfortable to use and end up in the Black Hole of your bathroom drawer. I've taken all of my knowledge of the lip Cosmos and have put all my Energy into designing these eight shades of gloss for a Big Bang effect. Each shade has my exact ratio of shine to shimmer to create the illusion of fuller lips. So don't waste anymore Space on lip plumpers that sting – with the right formula, the possibilities for fuller looking lips and luxurious comfort are Infinite."
*All shade names embedded in the "theory!"

Buy Big Bang by Lipstick Queen and keep your eyes peeled for other new launches, including blotting papers for lips, a compact mirror and... a second tome!