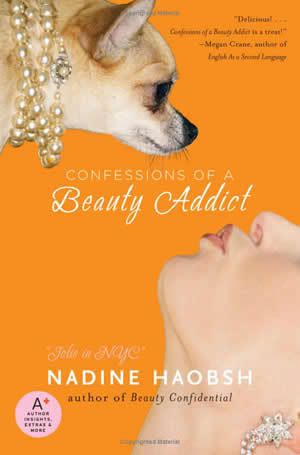 This weekend, beauty editor/blogger/successful novelist Nadine Haobsh shared a few beauty secrets with us before prepping for the latest stop on the book tour for her second tome, Confessions of a Beauty Addict at LA's famed Studio Fred Segal. Her first novel, Beauty Confidential was a huge hit and she's given us a sneak peek at her third book, her favourite products, what she thinks of plastic surgery and the best part of being a beauty editor...
What are your top 5 favourite products?
Bare Minerals foundation, NARS blush in Orgasm, Living Proof No Frizz styling cream, Nude facial cleansing oil, Envision Beauty The Solution serum.

What's in your travel make up kit?
I have a variety of Bare Escentuals powders in there (foundation, concealer, bronzer and illuminiser!) as well as Bare Escentuals lipglosses. Then I have a Prescriptives eyeshadow palette, NARS blush, Lancome mascaras, my beloved Shiseido eyelash curler (it's better than the Shu Uemura for rounded eyes, like mine) and countless brushes.
What's the best part about being a beauty editor?
Getting comped services like haircuts and colour (not to mention occasional massages) is truly the best perk. But helping steer women toward the best products is just a bonus!
And the worst part?
Feeling obligated to write about beauty even if my head is just not in that space. I had a real problem with that during the Presidential Election – I couldn't have cared less about lipgloss at the time.
Which spa is your favourite?
The Claremont Spa at the Claremont Resort in Berkeley, California is just heaven to me.
What is your favourite beauty trend for S/S 09 and A/W 09?
Excellent skincare and make up at mass-market prices! Target (which is kind of like Boots) is carrying Jemma Kidd, Pixi and Napoleon Perdis. And Olay is really proving itself to be among the world's true leaders in skincare/anti-ageing. It's nice that women are realizing you don't have to spend a ton of money for great products.
What do you think is the strangest new trend in make up?
I don't get all these Barbie Collections that Stila is doing. It's just weird to me. In general, I also don't understand the MAC obsessions. Good on them for figuring out a way to make consumers rabid about purchasing every single new thing you do, but it occasionally feels gimmicky and like a waste of money to me.
What's the best new product on the market?
Living Proof No Frizz – it's an anti-frizz hair cream that works like magic, and thoroughly coats the hair without weighing it down. Use it with a FHI hairdryer and flat iron and your hair will be sleek and shiny!
And the most interesting science/tech advancement in beauty this year?
Again, it's the new polymers they developed in Living Proof No Frizz. I am all about this product – it's genius. [Editor's note: It is genius. I've been using both the spray and cream for one week and even on my limp, thin, fine hair, it works... my hair looks better with it.]
What is your top beauty advice?
The Beauty Editor Commandments.
What is your worst beauty foible ever?
I recently tried to cut my own bangs, and ended up with a short, shapeless, weird fringe framing my forehead; it looked truly horrible. But my all-time worst was when I burned off all my hair (in a hotel on Park Lane!) while using a travel converter with my flat iron. My hair just started falling off. It was disastrous… and 20 minutes before a date with a cute English boy, too!
Do you ever leave the house sans make up?
Oh, God, I go without make up all the time! On the weekends, I often can't be bothered. I won't go on a date without make up, but I definitely don't feel the need to wear it everyday. I have a great 5-minute make up routine (Bare Escentuals, bronzer as blush, eyeshadow, quick swipes of mascara and lip gloss) that I use before work.
Are there new cool product/brand launches you're looking forward to this year?
I can't talk a lot about it, but I'm actually working on a skincare line right now with the two doctors for whom I work, and I'm super excited about it. We're shooting for the stars, and are tackling a *big* skincare concern that's often not properly addressed without spending a ton of money.
Where is your favourite beauty destination in NYC?
Henri Bendel! The make up counters there are to die for, and have some hidden gems. I love wandering the beauty aisles at Bloomingdales on 57th and Lexington (my old neighborhood!), too. Both the Upper East Side and the Village have some great beauty emporiums, meanwhile, like C.O. Bigelow, Zitomer and Lafco NY.
Where is your favourite beauty destination in London?
Liberty just kills me – everytime I'm there, I end up spending way too much money on fancy candles. I also love the old standbys: Selfridges, Harrods and Harvey Nics, and I especially like searching for UK-only finds in the big Boots on Oxford Street. We need a Boots in the US!
What was the best haircut you've ever had?
I have been lucky enough to have had a few amazing haircuts. The best stylists I've ever seen are Ted Gibson and Sally Hershberger in NYC, Paul-Jean Jouve in LA and either Charles Worthington or Daniel Hersheson in London. I also love Neil Weisberg of the Neil George salon. He's English but has a salon in LA with the famous haircolorist (also English!) Amanda George. They're fabulous. And Ted Gibson's co-owner Jason Backe is hands-down one of the best colorists in New York. I also love the Louis Licari salon in New York for color; Kristen Vincelli and Kathy Galotti brilliantly saw me through a lot of tricky color changes back in the day!
What was the best facial you've ever had?
I can't stand facials; it's just not for me. But I did have an amazing one at Sally Hershberger Face Place in New York that practically put me to sleep, and I had a tough, but good extraction in the spa at the Meurice in Paris. But, seriously… shudder! I'd take a massage over a facial any day. Use retinol or retinoids daily and you really won't need a facial.
Where is your favourite beauty destination in LA and what is your favourite LA beauty find?
Studio Fred Segal is the best beauty emporium in LA. I'm especially excited to have had my LA book launch party there, because Studio is chocka with products that make my heart flutter. Last time I was there, a perfumer from the Memoire Liquide custom perfume bar made me my own scent: it has Indian sandalwood, vanilla, musk, amber, patchouli, and jasmine. Heaven!
Can you give us a sneak preview of your next book? Just a peek!
My third book is set in England! It's about two glamorous American sisters from Palm Beach who move to West Sussex during their parents' divorce to live with their posh English grandmother, and they become fabulous socialite, Tatler Little Black Book types. When the economy tanks, however, they have to pull their family together and learn what's really important to them. It's fun, and I think girls on both sides of the pond will love it!
Plastic surgery... for or against? Do you think injections count as surgery?
I don't think injections count as surgery… Surgery involves an anesthesiologist, after-care facilities, weeks of downtime, thousands of dollars… you get the picture. Injections, to my mind, are the same as hair coloring – it's cheating nature, but it's also using the technology available to make the most of your looks. I am, personally, not a huge fan of plastic surgery, but I feel much more lax about injection maintenance. Botox, when done properly, is a wonder. I don't, however, condone lip plumping injections or face plumping injections, because they make people look fake and like aliens! To each his/her own, though… but it's just not for me. Perhaps I will change my mind later in life – I hope not!
Watch this space for a review of Nadine's lovely Confessions of a Beauty Addict.